B
Balti Seasoning: Baltistan is an ancient region of northernmost Pakistan with influences from Persia, Tibet and China. Traditionally a Balti would be cooked and served in a karahi (small Indian wok), without utensils, and would be eaten with your fingers using naan to scoop the meal into your mouth. More recently "Balti" has been catching the imagination of people in the way Tandoori cooking swept the world in the 60's and 70's. Coriander, garlic, ginger, cumin, dundicut chilies, Ceylon cinnamon, brown mustard seeds, cardamom, clove, fennel, fenugreek, charnushka (kalonji, black onion seed), ajwain, star anise, black cardamom. cilantro. anise seed and bay leaf.
Baking Powder: Not the same as baking soda! Baking powder contains baking soda, an acid, such as cream of tartar, calcium acid phosphate or sodium aluminum sulfate and a starch such as cornstarch or flour. When combined with a liquid, the ingredients in baking powder create a chemical reaction that helps breads and cakes to rise.
Baking soda: Also known as bicarbonate of soda or sodium bicarbonate, supplies the carbon dioxide gas that helps batters and dough's to rise. It is commonly used when acidic ingredients such as buttermilk, yogurt, or citrus juices are present.
Baking Spice: For pies, muffins, coffee cake, and banana bread or sprinkle on coffee. Cinnamon, anise, mace and cardamom.
Bangkok Blend: For flavorful Thai-Style cooking. Nice for seasoned noodles, toss 1 tablespoon Bangkok Blend, 2 tablespoons rice vinegar, 1/4 cup oil and 1 tablespoon peanut butter with 3 cups noodles. Sweet peppers, garlic, ginger, black pepper, galangal, hot peppers, lemon grass, basil, cilantro.
Barbecue Seasoning: Perfect for duplicating the spicy-sweet flavor of store-bought barbecue sauce, blend up as much as you want fresh. Mix 2 tablespoons in 2 tablespoons water, blend with 1 cup tomato sauce. Brush on meat during grilling or broiling. Sweet paprika, salt, sugar, allspice, nutmeg, red and black pepper, garlic, ginger, cinnamon and thyme.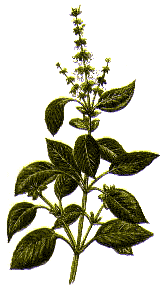 Basil
Basil (or Sweet Basil)(Ocimum basilicum): Basil is a herb with the spicy overtones of aniseed. It is a member of the mint family and while native to India, Africa and Asia it is now strongly associated with Italian food. It grows best in sunny climates. Basil has a strong history of reverence and loathing. Its name is Greek for "King" and it is revered as a sacred herb in the Hindu religion. However, in Europe during the Middle Ages it was believed that scorpions would breed under pots of Basil and just to smell Basil would form a scorpion in the brain. Basil is known as the tomato herb because of their affinity. There are over 150 varieties of Basil. The most popular herb in America, basil was virtually unknown outside of Southern Europe 30 years ago. Photo to the left. Basil that was dried or dehydrated under less than ideal conditions lost its sweetness and took on strong woody overtones. Dehydrators now use partial vacuums to lower the temperature at which water evaporates, so basil can be grown under ideal conditions, dried and shipped anywhere. The flavor is almost addictive and there is little that a bit of basil can't improve. California Basil is a little stronger than the French, due mainly to better dehydration technology, though the French basil has a bit of anise flavor many people enjoy. Basil should have a good fresh green color preserved by careful drying at temperatures of less than 110°F. The dried herb should retain its aniseed favour. Methyl Chavicol is the principal favour - giving volatile oil.
Bavarian Style Seasoning: Use for roasts and turkeys. Crushed brown mustard, rosemary, garlic, thyme, bay leaf and sage.
Known as a tomato's best friend, basil is also delicious on chicken, fish, pasta, stew, salads and vegetables. Add basil in the last 10 minutes of cooking as heat will dissipate its sweet, rich flavor.
Fresh basil is easily found in supermarkets and neighborhood gardens during the summer. To store it, simply place the stems in a glass of water and cover the leaves loosely with a plastic bag.
Bay Leaves (Laurus nobilis): The bay tree is a small evergreen with oval shaped, dark green leaves. It is indigenous to the Eastern Mediterranean. The dried leaves have an astringent, spicy favour similar to freshly ground pepper, but without the heat. The bay tree grows wild and the leaves are harvested by cutting the branches and drying them in the shade. In ancient Greece and Rome the branches were used as wreathes to crown the victors in battle, sport and the arts. We still use the term "poet laureate". The word "baccalaureate" means laurel berries and signifies the successful completion of one's studies. Good quality Bay Leaves should be large and whole with clean unblemished leaves of a good green color. Photo to the right. Eugenol is the principal favour - giving volatile oil. Turkish bay leaves are the best in the world. Though not as strong as the California variety, they have a natural depth of flavor. Bay leaves grow wild on the hilly mountains of western Turkey in the area around Izmir (Smyrna). The wind there is perfect for growing bay leaves. Most of the year it comes out of the west across the Mediterranean and Aegean seas, picking up moisture and dropping it on the growing trees. At the end of the summer the wind changes direction and comes out of the south, hot and dry. Bay leaves are very light (8 ounces by weight equals one gallon by volume). Other names - Sweet Bay, Sweet Laurel.
The flavor of bay leaves is perfect for adding to roast pork or chicken, pot roast, turkey or ham, use 2 - 3 leaves and remove before serving. Bay leaves are also perfect for spaghetti sauce and chicken soup, use 2 leaves per quart. Bay leaves improve the flavor of salt-free dishes with their rich flavor.
Bay Leaf Seasoning: Vibrant bay leaf flavor -- just sprinkle on fish, vegetables, poultry and meat, 1/2 teaspoon per pound. Great for grilling. Salt, powdered Turkish bay leaf, garlic, rosemary, thyme, basil, black pepper, onion and oregano.
Beef Roast Seasoning: Use 1 - 2 teaspoon per pound for venison, pot roast, thick steaks and hamburgers. Sweet paprika, flake salt, toasted onions, celery, sugar, arrowroot, dill, bay, thyme, savory basil, marjoram and rosemary.
Bell Peppers: Flavorful, colorful bell peppers are convenient and tasty, nice for meatloaf, soup, pizza, casseroles and salads. To rehydrate 1/4 cup: Place 2 tablespoons bell peppers in a cup, add water to the 2 ounce (1/4 cup) mark. Soak 15 minutes.
Black and Red Spice: A blend of fresh ground Tellicherry black pepper and hot cayenne red pepper. Great whenever you want the robust flavor of Tellicherry black pepper but need extra heat.
Borage: Borage is a little-known herb with a mild, cucumber-like taste. Chop the fresh leaves and use the violet flowers as a garnish. Fresh borage belongs in the refrigerator, wrapped in paper towels and enclosed in a plastic bag.
Bouillon Cubes: Bouillon cubes are a concentrated form of broth or stock. Beef, chicken and vegetable cubes are commonly available in grocery stores.
Bouquet Garni: For baked chicken or fish, pork or pot roast. Savory, rosemary, thyme, oregano, basil, dill weed, marjoram, sage and tarragon.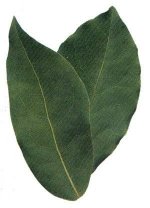 Bay Leaves