P -- Paprika through Chipotle Peppers
Paprika (Capsicum annuum): Comes from a variety of pepper and although similar in color to cayenne, this bright red powder has a mild flavor. Hungary has the abundance of sunshine needed to grow the world's best paprika, and the knowledgeable farmers capable of nurturing the crop from planting to harvest. In Hungary more than forty types of paprika are grown. The farmers determine which type will produce the sweetest, most colorful crop based on weather predictions for the year. The quality of the paprika depends on how much sunlight Southern and Eastern Hungary receive in the weeks before the harvest. Hungarian Paprika is great for adding vibrant color and rich pleasing flavor to traditional dishes like Hungarian Goulash. Hungarian Sweet Paprika also enhances simple baked chicken. Californian paprika is deep red, mild and sweet, nice for chicken but browns with long cooking.
Crushed Red Peppers through Pumpkin Pie Spices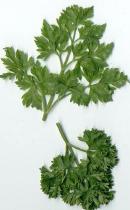 Parsley
Parisien Bonnes Herbes: A rich herb mix for vegetables, chicken, soups and baked fish. A fragrant all-purpose blend from one of the cooking capitals of the world. The combination of traditional French herbs, from tarragon to chives, makes this versatile blend both savory and sweet. Good for roast chicken or pork tenderloin, just rub with a bit of oil or butter, sprinkle with lemon juice, crumble on 1 teaspoon Parisien Bonnes Herbes per pound and cook. One of our best blends for Cornish hens, prepare the same way and add salt if desired. Good on sauteed veal or chicken tenders. Also nice for steamed or sautéed vegetables, just sprinkle on or mix with butter. A nice flavor combination for stock or soup-making, add 1 teaspoon per quart. Good for sauces (makes a flavorful, slightly non-traditional Bernaise) and great for eggs -- from scrambled, to omelets, to quiche. Chives, dill weed, French basil, French tarragon, chervil and white pepper.
Parsley (Petroselinum crispum): Parsley adds a bright green color and a clean, gardeny taste to a large number of dishes. Parsley is America's favorite herb. Photo to the left. Sweet and rich, it brings out the flavor of other spices and herbs. It also seems to lessen the need for salt in soups, stocks and sauces. Parsley flakes are light -- 1 ounce equals almost 2 cups. The leaves can be used whole or crumbled for breading, or mixed with other herbs for a bouquet garni. Fresh parsley is now available in almost all supermarkets. Look for fresh, bright-green bunches. Rinse and shake gently before storing in your refrigerator, wrapped in paper towels and covered with a plastic bag.
For a light, fresh vegetable dip, mix 1 - 2 tablespoon Herbes in 1 cup yogurt with salt to taste. For green salads, mix 1 tablespoon in 1 table-spoon water, let stand 5 minutes, blend with 1/3 cup lemon juice or rice vinegar, 1/2 cup olive oil, and garlic, salt, and pepper to taste.
Pasta Sprinkle: A great way to make simple pasta a flavorful side dish. Two cups of freshly cooked pasta, tossed with 2 - 3 teaspoons Pasta Sprinkle, a splash of balsamic vinegar and a drizzle of olive oil or pan drippings is a great accompaniment to baked chicken, fish or chops. Over the past few years pasta has emerged in the American kitchen as a tasty, versatile and healthy addition to the rotation of rice and potatoes, for a nice change of pace. California and French basil, Turkish oregano, minced garlic and thyme.
Pepper, Whole Green: Pepper is produced in Southeast India. Ripe pepper is allowed to ferment and dry, producing black pepper. Dried unripe berries are green peppercorns. White pepper is black pepper that has been soaked, the black outer husks removed. Pepper is perhaps the most versatile spice available. It is used to flavor almost any meat or vegetable dish, and is even used in some dessert recipes! Green peppercorns are softer than black or white pepper and have a milder, less hot flavor. Green pepper is an attractive garnish and also popular in peppercorn blends.
Pepper, Whole Pink: Imported from the Isle of Reunion, pink peppercorns are not related to black pepper but are used similarly. They impart a lovely color and rich, almost sweet flavor. Use pink peppercorns in grinders, or for garnish. They impart a sweet, peppery flavor and beautiful color. Particularly nice with salmon.
Pepper, Whole Szechuan: Szechuan peppercorns are not really peppercorns, but are the seeds and seed pods of a tree grown in China. They are somewhat hot with an almost numbing property. Used mainly in Chinese dishes, Szechuan peppercorns are commonly toasted with a coarse salt and ground.
Pepper, Ground Black (Indian Black Tellicherry): Black pepper comes from unripened berries dried until dark greenish-black in color. Black pepper is more subtle than white. The best ground pepper is made of pure premium grade peppercorns, ground often to ensure freshness. The pepper is sifted to four popular sizes, from a fine shaker grind, to large coarse chunks, suitable to meet every need. Mesh is a term that refers to the number of openings per linear inch in a sifting screen. A fine grind, such as a 30/60 mesh, would sift through a screen with 30 openings per inch, but would stay atop a smaller screen of 60 openings per inch. Fine Shaker Grind, 30 mesh (biggest seller). Shaker Grind, 30/60 (powdery fines sifted out). Coarse Grind, 20/30 mesh (popular size, not too large). Cracked Black Pepper, 10/16 mesh.
Pepper, Ground White: White pepper comes from ripened berries with the outer husks removed. Finely ground white pepper has traditionally been used in Western cooking where specks of black pepper would be objectionable, such as in white sauces, cream soups and fish dishes. Coarse grind white pepper is the size and type of pepper preferred in Southeast Asia where it is sprinkled heavily on meats, especially beef and pork before grilling, broiling or stir-frying.
For a healthy, easy and economical summer meal, cook pasta, add Pasta Sprinkle to taste, toss in sautéed or broiled chicken, beef, broccoli or zucchini strips and a splash of herb or wine vinegar.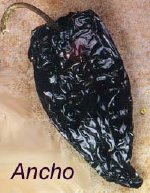 Peppers, Ancho chile: Large, juicy, dark purple New Mexican pods. Ancho chile peppers are the most commonly used pepper in Mexico and are the backbone of dishes such as the traditional red chili and tamales Chop into 1/4" chunks and add to chili, mole sauce, stews, beans and rice, or cover in water for a few hours to rehydrate, slice open stuff and cook. 3,000 Scoville Heat Units.
Peppers, Arbol chile: Slim, beautiful, curved 3 - 5" bright red Mexican pods. Close to cayenne in heat and flavor. Throw a few into barbecue sauce, curry or chili. Great for making chile pepper oil or vinegar. Store the finished product in tightly sealed, clear glass containers. Arbol chile peppers are the pepper of choice for spice craft workers. 35,000 Scoville Heat Units.
Peppers, Birdseye Whole: Birdseye peppers are extremely hot and rate Scoville Heat Units of 175,000.
Peppers, chile Piquin: These small, red, fiery hot Mexican chilies are also known as bird's eye peppers, grown and used throughout Mexico and the American Southwest. USE WITH CAUTION. Add 1 or 2 to Mexican moles and sauces, stewed meats and vegetables. Also, use in Pazole and other corn recipes, barbecue sauce, and hot & sour soup. 140,000 Scoville Heat Units.
To make a flavorful ancho chile oil: Chop 3 peppers into 1" chunks and simmer in 3 cups good corn oil, 20 minutes. Let cool, strain (use pepper pieces in another recipe) and store in an airtight container.
Peppers, Chipotle: Chipotle peppers are red Jalapeno peppers that have been smoked over wood fires. Very popular in Mexico and Central America. Chipotle peppers are rich, smoky and fairly hot. Add whole or chopped to chili, beans, sauce. They come in cans with a spicy tomato-vinegar sauce called adobo. Ground Chipotle Pepper is an attractive, coarse red powder, a tasty all-purpose tabletop shaker. 75,000 Scoville Heat Units.