Spice Book
Here you will find information and descriptions on a large number of herbs and spices. You may even find some photos and recipes along the way. Click on the letter of the seasoning in which you are interested and enjoy your tour of the Spice Book.
A B C D E F G H I J K L M N O P Q R S T U V W X Y Z
Sources
Much of the information in the SpiceRack section of our website has come from material provided by Penzeys Spices as well as a number of other resources around the Internet.
Photos throughout these pages come from a variety of sources around the Internet. Many came from an excellent spice site, "Gernot Katzer's Spice Pages," while others came from Penzeys catalogues.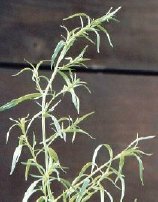 Tarragon
T
Taco Seasoning: Similar to seasoning packets sold in grocery stores, but more flavorful and less expensive. Flavorful, not hot. To season and make sauce for tacos: mix 4 tablespoon Taco Seasoning with 6 ounces water, add to 1 pound browned, drained ground beef or cooked chicken or beans. Simmer 10 minutes until the sauce thickens. Cool briefly & serve. Taco Seasoning is also great for dip -- mix 2 tablespoons in 2 tablespoons water, then blend with 1/2 cup sour cream and 1/2 cup cream cheese. Paprika, salt, white onion, lactose, dextrose, wheat flour, MSG, tomato, cumin, arrowroot, garlic, oregano, black pepper, cocoa and allspice.
Tamarind: Tamarind is the dried pulp of pods from the tamarind tree. It adds sweet-tart flavor to foods and is commonly used in Southeast Asian recipes. It should first be dissolved in boiling water, and the resulting solution strained before adding to recipes. You can find fresh tamarind pods in Asian and Latin markets — remove the seeds before grinding the remainder of the pod into a paste. Jars of prepared paste are also sold.
Tandoori Seasoning: Clay ovens known as tandoors and the flavorful food they produce have entered the fast food market all over India and many major cities of the West as well. The most popular tandoori food is chicken. Skinless half chickens are marinated overnight, skewered and baked. Tandoors are extremely hot, which seals in the juices of the chicken. Like a microwave, tandoors cook so quickly that browning doesn't take place. The red color of Tandoori chicken in Indian restaurants comes from food coloring. It is possible to reproduce the rich flavor, if not the cooking technique, of this dish at home. Mix 1 - 2 tablespoon with 1 cup plain yogurt and the juice of 1/2 lemon. Pour over a cut-up skinless chicken, cover and place in the refrigerator for at least 4 hours, preferably overnight. Remove from marinade, bake 45 minutes uncovered at 325F, turning and basting every 15 minutes. Also excellent for sautéed chicken breasts and chicken pasta salad. Coriander, cumin, sweet paprika, garlic, ginger, cardamom and saffron.
Tarragon (Artemisia dracunculus): The most popular of the French herbs, its rich, robust flavor combines especially well with the wine and shallot base of many French dishes. Very nice for a simple baked chicken or Cornish game hen. Tarragon is also a strong-flavored herb; start with a small amount on baked chicken or fish, in tuna or chicken salad, oil and vinegar dressing for salads and marinades. Photo to the left. French Tarragon has the strongest and sweetest flavor; it is the definitive tarragon, perfect for all uses. Fresh tarragon belongs in your refrigerator, wrapped in a paper towel and covered with a plastic bag.
Thyme (Thymus vulgaris, T. hyemalis): Thyme has small leaves that give a clean, herbal taste to poultry, seafood, lamb and vegetables. It is used commonly in Italian cuisine, but also appears in many other foods. Thyme is truly one of the best cooking herbs in the world. Helps in the digestion of fatty foods, so it goes well with dishes of duck, goose, mutton, or pork. Used in many slow cooked dishes. Thyme has a vibrant flavor with a special affinity for poultry and pork; it is an absolute must for fried chicken and breaded chops and is just as good for baking and broiling. Rub on chicken or fish for the grill with garlic and pepper. Add to split pea soup with ham, or mix with rosemary, garlic and pepper for a great roast or fish fry. Photo to the right. No Southern kitchen would be without thyme.
Trinidad Style Lemon -- Garlic Marinade: Southern Caribbean seasoning for grilled or broiled poultry and fish. Lemon-garlic blend with a hint of clove and ginger. Rub fish or poultry with a bit of vegetable oil, sprinkle on 1/2 - 1 teaspoon per pound, refrigerate a few hours before grilling or broiling over medium-high heat. Salt, lemon peel, garlic, clove, and ginger.
Turbinado Sugar: Natural unrefined sugar.
Turkish Seasoning: There are few places as exciting as Turkey. The people, the climate, the history and the food all come together. This combination of spices has been developed over the millennia in Izmir. A traditional and delicious blend for seasoning meats from kabobs to roasts, lamb to beef to chicken -- use about 2 teaspoon per pound. Mix 2 teaspoon in 1 cup yogurt for a sandwich/pita spread; for a tasty vegetable dip use the same mix, but add a teaspoon, or two of honey as well. Flake salt, cumin, garlic, half-sharp paprika, black pepper, Turkish oregano, sumac, and cilantro.
Turmeric (Curcuma longa): What makes mustard yellow? Turmeric. Closely related to ginger, it is an aromatic root which is dried and ground to produce a bright, orange-yellow powder. It has a rich, warm, distinctive smell, a delicate, aromatic flavor and helps give dishes an attractive yellow coloring. Use in curries, fish and shellfish dishes, rice pilafs and lentil mixtures. It is also a necessary ingredient in mustard pickles and piccalilli. Powdered Indian turmeric has very intense color, use 2/3 what recipe calls for. Turmeric is the main ingredient in yellow curry powder.