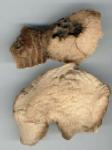 Dried Galangal
G
Galangal: A close relative of ginger, galangal is used in Indonesia and South East Asia, especially Thailand. Ground Galangal (also called Laos powder) is commonly called for in recipes. It is also known as galanga root and galingale. The flavor is similar to ginger, but flowery and intense. Use small amounts when starting out. You can find it fresh and as dried slices in larger grocery stores and Asian markets. If using dried, cut the quantity called for in half. To use dried galangal, first soak the slices in warm water until pliable.
Galena Street Rib and Chicken Rub: A mouth-watering seasoning, quite possibly our best blend. An authentic and traditional Southern-style seasoning, with hints of sage, nutmeg and cayenne. For pork ribs, sprinkle with vinegar, then rub on seasoning, 1 - 2 teaspoon per pound. Add a little more halfway through cooking. For chicken, sprinkle on less. Flake salt, sugar, black pepper, paprika, ground Grenadian nutmeg, sage, cayenne and red pepper.
Garam Masala: The formula for this blend was brought into this country by a Punjabi man who had recently moved to the United States. It was his mother's recipe and in exchange for grinding and blending the whole spices for him, he gave it to us. His mother was proud to hear that her blend had become a hit in America. Garam masala is an all-purpose blend called for in many Indian dishes. Very good on fish, and traditional on cauliflower. Also nice on lamb, pork, poultry and potatoes. Because the flavor of garam masala can fade quickly, it is traditionally added to dishes just before serving or sprinkled on top. Moroccan coriander, Tellicherry black peppercorns, cardamom, Korintje cassia cinnamon, kalonji, caraway, cloves, ginger and nutmeg.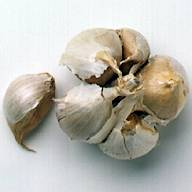 Garlic
Garlic: Garlic is probably the most heavily used seasoning in the world. Photo to the left. All of the world's great cuisines, from Chinese, to Italian, to French, make abundant use of this pungent flavoring. The world's finest garlic is American, grown and harvested in central California. Fresh garlic comes in a bulb, which contains several small cloves within its papery exterior. Though it is oniony, hot and bitter when raw, garlic takes on a sweet and delicate flavor when cooked. Buy it fresh and look for plumb, firm bulbs. Don't pick up more than you will use in one or two weeks, and store in a cool, dry and dark place. One pound of dehydrated garlic is made from 9 pounds of fresh garlic bulbs. Granulated garlic powder is the most popular type of garlic, since it is easy to sprinkle on meats, vegetables and bread, and measures easily for recipes. To rehydrate: Use 1/2 teaspoon in 1 teaspoon water to equal 2 fresh cloves. It is important to rehydrate garlic for a few minutes before adding it to tart foods like tomatoes, or to sauces that contain vinegar or lemon juice (the acidic nature of these foods will stop the garlic flavor from developing to its full strength). When adding dry, use 1/4 teaspoon for each garlic clove needed. Sprinkle on poultry, steak, chops or fish, use about 1/2 teaspoon per pound with salt and pepper to taste.
Garlic Chives: These resemble regular chives, but true to their name, have an added garlic taste. They are also known as Chinese chives. Buy them fresh in larger supermarkets, and store in the refrigerator, wrapped in paper towels and enclosed in a plastic bag.
Garlic Salt: Shake on garlic bread, salads, subs, pasta and french fries. Also good on chicken, hamburgers and baked potatoes. To make plain garlic salt, mix 1 tablespoon garlic powder with 3 tablespoon regular table salt, pour into shaker jar with a tight-fitting lid, shake well (this will be a bit stronger than the store variety). Coarse flake salt, garlic granules and minced parsley.

Gingers
Ginger (Zingiber officinale): Ginger comes from the underground stem of a tropical plant. Fresh ginger has a strong, peppery flavor and aroma. Ground ginger has a sweeter and more gentle flavor. You can find both fresh and ground ginger at your grocer's. Store the fresh variety in your refrigerator wrapped in a paper towel and peel the "root" before using.
Available in many forms. Photos to the left. Invaluable for adding to many savory and sweet dishes and for baking gingerbread and brandy snaps. Ginger is one of the most widely used spices in the world. It is essential for Asian and Indian dishes where it is used to season meat, seafood and vegetables in many ways -- from Indian curries, to Japanese marinades, to Chinese stir-fry. In America, ginger has been used mainly in baking, but it is increasingly being used to season a variety of other dishes. A pinch of ginger is very nice to boost the flavor of salt-free dishes, and ginger is also a flavorful addition to chicken soup, sautéed vegetables, and roast chicken or pork. For flavorful grilled steak, rub ginger, garlic and black or white pepper on meat, marinate a few hours before cooking.
Ginger, Powdered China #1: China #1 whole peeled ginger is the finest in the world. It is virtually fiber-free, yielding a buttery-soft powder when ground, and is much better than the woody fresh ginger found in many supermarkets (stays fresh longer too). Chinese ginger has a strong, true flavor with lemony overtones, making it perfect for all baking recipes -- especially gingersnaps, gingerbread, molasses cookies, coffee cakes, fruit breads, pies and muffins.
Ginger, Cracked China #1: Cracked ginger is traditionally used for pickling and canning recipes, but is most popular now for marinades, sauces and stock making. Add 1 teaspoon to chicken stock.
Ginger, Whole Root China #1: Whole ginger root stays fresh indefinitely. It can be grated on the small-holed side of a cheese grater for coarse powder, or pieces can be broken off. Small pieces of dry ginger root can be thrown into stocks or fruit sauces.
Ginger, Crystallized: Tender Australian ginger, cut into 1/4 dices. Peeled, diced and preserved the old-fashioned, natural sugar cure method. Virtually fiber-free, it's perfect for baking and candy-making. Because the ginger retains its warmth and bite, even with the sweet sugar coating, it is excellent for teriyaki or sweet and sour marinades.
Gumbo File: Pure powdered sassafras leaves. Because they thicken, as well as flavor, traditional seafood soups and stews, the name is synonymous with gumbo. Add towards the end of cooking.
Make a flavorful Japanese-style marinade with 1 teaspoon Cracked Ginger, 2 fresh garlic cloves (smashed), 1/2 cup soy sauce and 1/4 cup chopped pineapple. Add 1/4 teaspoon white pepper if desired. Use to marinate 1 pound shrimp or cubed chicken or pork for stir-fry with mixed vegetables.