Saffron Threads
S
Saffron (Crocus sativus): Saffron is the rare and strongly flavored spice made from the dried stigma of the fall flowering crocus. Photo to the left. Peek inside most any flower and you will see three threadlike filaments. These are stigma - but only in the saffron crocus are these stigma worth thousands of dollars a pound. Saffron is valuable because it is a labor intensive crop; only 5 - 7 pounds of saffron can be produced from each acre of land. This makes saffron the most expensive spice by weight but by use saffron isn't that expensive, because a little goes a long way. A single gram of saffron translates into golden color and distinctive, fragrant flavor in 10 recipes of saffron rice for four, several batches of bread, or a couple of big pots of paella. There are several different grades of Saffron: Spanish Superior Saffron is the most widely available saffron and is a very good crop. For the best flavor, saffron threads or powder should be steeped in hot liquids. Spanish Superior Saffron has a bit of the yellow style material left attached to some of the saffron stigmas, so it is not as strong as Spanish Coupé or Kashmir Indian Saffron.
Saffron, Spanish Coupe: The top grade of the Spanish Saffron crop. Extra hand labor is used to remove every bit of the yellow saffron style material, leaving 100% beautiful pure red saffron threads. Spanish Coupé Saffron is excellent, especially nice for the traditional Spanish dishes.
Saffron, Kashmir "Mogra Cream" Indian: The world's finest. The dark red color and long strands are as beautiful as they are colorful and flavorful. Kashmir saffron is difficult to obtain, which makes it higher in price, but Kashmir Mogra Cream Saffron is truly wonderful.
Sage (Salvia officinalis): Sage is native to the North Mediterranean coast and has one of the richest and most distinctive flavors of all the herbs. Sage leaves are a gray-green color and have a slightly bitter flavor and a sharp, woodsy aroma. Photo to the right. Perfect for a simple baked chicken or pork, sprinkle with lemon juice or salt, sage and pepper. Albanian sage has a rich flavor unknown to buyers of the California sage normally sold in supermarkets. Sage is traditionally used for poultry stuffing and breakfast sausages, but its rich Strength lends itself well to many dishes, such as beef roasts, pork chops and game dishes like venison, duck and goose. Sage has become much more popular in recent years, as it is excellent in a great variety of dishes. Try adding it to flavor salt-free dishes, sprinkle on turkey breasts or add to soups and sauces. Leftover turkey or chicken can be pepped up with a bit of rubbed sage. Fresh sage belongs in your refrigerator, wrapped in paper towels and covered with a plastic bag.
Salt, Kosher (Flake): This is the grade of salt used by chefs and for making pretzels. Coarser than regular salt, flake salt is easier to control in cooking.
Salt, Sea: Use granulated sea salt in salt shakers and in cooking. Salt crystals are produced for use in salt mills and any application where larger salt chunks are needed. Sea salt is used as a direct replacement for standard iodized salt. Many feel that is has more flavor. Sea salt is not iodized.
Salt, Seasoned : Seasoned salt comes in many different varieties and is sold under a number of brand names. Each is different, but most are a combination of salt and other seasonings such as red and/or black pepper, garlic, onion, chili powder, cumin and MSG.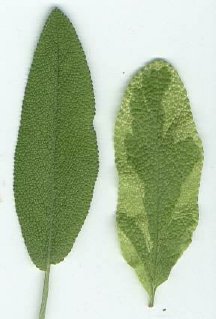 Two varieties of sage.
Sate Seasoning: Of all the thousands of regional dishes of Indonesia, sate is probably the best known and most enjoyed the world over. Sate makes a great appetizer or snack, or combine with Nasi Goreng (fried rice) for a complete meal. This blend, which is of the style found in West Java and Southeast Sumatra, is also perfect for Ayam Goreng (fried chicken). Use heavily, 2 - 3 teaspoon per pound. Coarse flake salt, brown sugar, garlic, white onion, coriander, purple shallots, ginger, turmeric, sweet paprika, Ancho pepper, galangal, cayenne red pepper and lemon grass.
Serve sate with this simple dipping sauce: In a small bowl, combine 1/4 cup soy sauce with two thinly sliced shallots, 2 teaspoons, brown sugar, the juice of 1/2 lime and crushed red or jalapeno pepper to taste.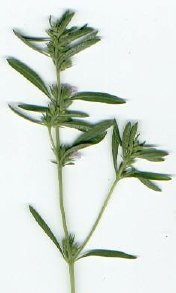 Savory
Savory Leaves (Satureja montana): Savory is a very popular herb in Germany, where it is known as "bohnen-kraut" (bean herb). Photo to the left. Savory has been gaining popularity here recently. The flavor is a cross between thyme and mint with a touch of pepper. It is traditionally used to season bean soup, but savory also adds nice flavor to chicken or beef soup or stew, baked chicken, pork, stuffing and vegetables. From Albania.
Sesame Seeds (Sesamum indicum): High in protein and mineral oil content, sesame seeds have a crisp texture and sweet, nutty flavor. Both white and black sesame seeds add flavor and texture to pork, chicken, fish, salads, Asian and Indian dishes. To toast, place on a cookie sheet and roast in a 350F oven for 5 - 10 minutes. White Sesame Seeds: Common in the United States and Europe for sprinkling on top of breads. Black Sesame Seeds: In Japan black sesame is used in rice and as a tabletop condiment.
Shallots: The flavor of shallots is similar to a cross between onion and garlic, but more delicate, sweet and complex. Used heavily in Northern France for poultry, veal, salads, eggs and soups, blending with the natural flavors of the food without overpowering them. Use 1/2 as much as fresh shallots, 1/2 teaspoon equals one clove.
Shrimp and Crab Boil Spices: Traditional for boiling shrimp, lobster, crab and fish. Use 2 - 3 tablespoon per 1/2 gallon of water. Simmer in a covered kettle 20 - 30 minutes before adding seafood. 1/2 cup of Shrimp and Crab Boil should do two batches of seafood. Serve with lemon slices and cocktail sauce or melted butter. Yellow and brown mustard seed, allspice, coriander, Ceylon cloves, cracked bay leaves, cracked ginger, Tellicherry peppercorns, chili pepper, dill seed and caraway seed.
Singapore Seasoning: Like the city, Singapore Seasoning combines the best of both East and West to produce a flavorful all-purpose Southeast Asian mix. Tellicherry black pepper, lemon peel powder, citric acid, garlic, onion, turmeric, coriander, cumin, ginger, nutmeg, fennel, cinnamon, fenugreek, white pepper, cardamom, cloves and cayenne red pepper.
Singapore Seasoning is our best blend for grilled Cornish hens: cut hens in half, season both sides heavily (up to 2 teaspoons, per pound), refrigerate 3 - 4 hours, or even overnight. Tightly pack coals on one side of the grill. When coals are hot, sear both sides of the hens. Move to the cooler side of the grill, cover, cook 20 - 25 minutes. This blend is also great for seasoning steaks, chicken (with or without the skin), stir-fried pork, and baked, steamed or fried fish.
Soup Base: Nothing beats making your own soup stock; it doesn't take much time, it's inexpensive and your stock will be much more flavorful. But if you find that you're out of your homemade base, or you just can't get around to making your own, these bases are much better than doing without. They are like bouillon cubes in bulk form, but more flavorful, with fewer preservatives and less salt. Nice for adding to homemade soup and gravy for extra flavor and color, or add to the water before making rice or boiling pasta. Use 1/2 teaspoon per cup for broth. Ham base is great for fortifying split pea or navy bean soup. The "no salt added" bases have less than 60 mg. sodium per serving. The flavors are mixed on a dextrose, instead of a salt base, which makes them a little on the sweet side. All of the soup bases contain a small amount of MSG.
Southwest Seasoning: A wonderful spicy, Mexican-American mix of spices and herbs, not too hot, just rich in flavor warm chili peppers combined with onion, garlic, pepper and cilantro, laced with a smoky hint of chipotle pepper. Salt, sweet ancho pepper, onion, garlic, Mexican oregano, Tellicherry black pepper, cayenne pepper, cumin, sweet paprika, chipotle pepper and cilantro.
Great for broiled or grilled chicken, fish and chops, sprinkle meat or poultry with lemon or lime juice, then rub on Southwest Seasoning, 1 - 2 teaspoons per pound. For dirty rice or red beans and rice: sauté 1/2 onion (minced) in 1 tablespoon butter. Add 2 - 3 teaspoons seasoning and 1 cup white rice, Stir. Add 2 cups stock, and 1/4 cup chopped tomato, bring to boil. Reduce heat to low, cover, cook 15 minutes. Stir in 1 cup beans.
Remember that seafood cooks quickly -- shrimp will be done in just 3 - 5 minutes, depending on whether your water is simmering or boiling. Drain the seafood without rinsing, so the wonderful spice flavor won't be lost.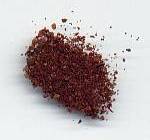 Ground Sumac
Sumac: Sumac is a purplish powder which is made from the dried berries of a nonpoisonous species of the sumac shrub. Photo to the left. Sumac has a sour taste, with hints of lemon and pepper. Sumac is used extensively throughout the Middle East, plain or mixed with thyme and sesame (Zatar) on the table. Because of the moistness of the whole sumac, a small amount of salt is added for grinding. From Syria. Contains Sumac and Salt.
Sunny Paris Seasoning: Freeze-dried shallots, the main ingredient, make it an incredible seasoning for seafood, Cornish hens, chicken, vegetables, rice, eggs and veal. Simply sprinkle over salads, potatoes, or rice, or mix 1 tablespoon with 1 cup yogurt and use as a dip or salad dressing. Shallots, chives, green peppercorns, dill weed, basil, tarragon, chervil and bay leaf.
Sunny Spain Seasoning, Salt-Free Lemon-Pepper: Lemon-Pepper is one of the most popular all-purpose seasonings, and Sunny Spain is the same blend minus the salt. Sunny Spain is a bestseller because the tartness of the lemon enhances the perception of the natural salts in food, and simply makes them taste more pleasing. Sunny Spain is perfect for fish and chicken, just rub on, 1/2 to 1 teaspoon per pound. The flavor combination is also very versatile, use for lean pork chops, steamed or sauteed vegetables, mashed potatoes, hamburgers or meatloaf, steak, salads and scrambled or poached eggs. Tellicherry black pepper, citric acid, lemon peel powder, garlic and onion.