Here you will find information and descriptions on a large number of herbs and spices. You may even find some photos and recipes along the way. Click on the letter of the seasoning in which you are interested and enjoy your tour of the Spice Book.
A B C D E F G H I J K L M N O P Q R S T U V W X Y Z
Sources
Much of the information in the SpiceRack section of our website has come from material provided by Penzeys Spices as well as a number of other resources around the Internet.
Photos throughout these pages come from a variety of sources around the Internet. Many came from an excellent spice site, "Gernot Katzer's Spice Pages," while others came from Penzeys catalogues.



R
Rogan Josh Seasoning: Just a little spicy A very popular dish from Northern India and Pakistan. This version of the red lamb stew comes from the state of Rajasthan, known for its hilly deserts and fierce, yet chivalrous warriors. Rogan Josh can be made with beef, but this blend is a great example of how a crafty seasoning can change the somewhat objectionable, "gamey" flavor of lamb into something far more delicious. Some blends are interesting -- this blend is good. For the true Jaipur Palace experience, use the full 2 tablespoon per pound, plus extra cayenne and cardamom. Either way you make it, don't plan on having any leftovers. Paprika, garlic, ginger, cumin, coriander, black pepper, cayenne pepper, Korintje cassia cinnamon, cardamom, cloves and saffron.
Brown 2 pound lamb or beef cubes in 4 tablespoon heated ghee or oil. Remove, brown 1 large, minced onion, add 2 - 4 tablespoon Rogan Josh, 1 teaspoon salt, stir 1 minute. Add meat, slowly blend in 1 cup water and 1/2 cup yogurt. Cook 1 - 2 hours over low heat, then raise heat to reduce sauce until thick.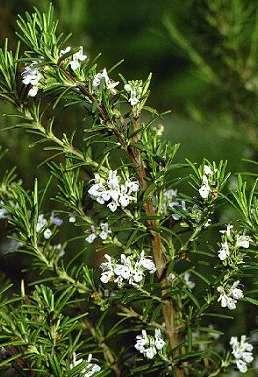 Rosemary in Bloom
Rosemary (Rosmarinus officinalis): The needle-like leaves are very aromatic with a slight woodsy perfume. The savory almost minty sweetness of rosemary makes it perfect for chicken, pork and lamb, from grilled chops to large roasts. But don't stop there, rosemary adds wonderful flavor to almost everything. Try rosemary on chicken and fish: just crumble on (or use cracked) with garlic, pepper and salt before baking. Whole Spanish Rosemary Leaves: The size and shape of Christmas tree needles. Cracked, 10/18 mesh, Spanish Rosemary Leaves: The most popular cut for cooking is small cracked bits. The bits stay fresh longer than powder, but are small enough to sneak past (most) children. Powdered, 40 mesh, Spanish Rosemary Leaves: Easy to use, but powder doesn't stay fresh as long as cracked or whole Rosemary leaves. Make sure to store in a cool, dry, dark place. Fresh rosemary belongs in your refrigerator, wrapped in a paper towel and covered with a plastic bag.
Rosemary is often used with oregano and thyme in Italian dishes: add 1/4 teaspoon per cup for spaghetti sauce, mix into the dough for breadsticks or bread machine loaves, 1 teaspoon, per loaf. Add to the water for boiling seafood, 1 - 2 teaspoons in a two-quart pot.