Spice Book
Here you will find information and descriptions on a large number of herbs and spices. You may even find some photos and recipes along the way. Click on the letter of the seasoning in which you are interested and enjoy your tour of the Spice Book.
A B C D E F G H I J K L M N O P Q R S T U V W X Y Z
Sources
Much of the information in the SpiceRack section of our website has come from material provided by Penzeys Spices as well as a number of other resources around the Internet.
Photos throughout these pages come from a variety of sources around the Internet. Many came from an excellent spice site, "Gernot Katzer's Spice Pages," while others came from Penzeys catalogues.



M
Mace (Myristica fragrans): Mace, the lace-like, dried covering of the nutmeg, is a sweet and flavorful spice well worth using. Photo to the right. Mace has a similar, but softer flavor than nutmeg, and for a nice change of pace it can be used in place of nutmeg in any recipe. When ripe, the fruit splits open to reveal bright red arils which lie around the shell of the nutmeg - and once dried are known as mace blades. Blade Mace can also be added to clear soups and sauces where nutmeg powder might spoil the appearance. Mace is a traditional flavoring for doughnuts and hot dogs. Use with vegetables; sprinkled over egg dishes, milk puddings and custards; eggnogs and mulled drinks; or use as a flavoring in desserts.
Mahlab: Mahlab, the pit of the sour cherry, has been used for centuries in the Middle East (especially in Turkey and Syria) as a sweet/sour, nutty addition to breads, cookies and biscuits.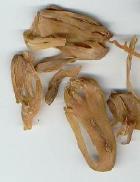 Mace

Marjoram (Origanum majorana): Considered by some to be the next big herb to be rediscovered by American cooks. Marjoram is very popular throughout the Western world and is frequently found in Polish, Italian, Mexican and French cooking. Store fresh marjoram in your refrigerator, wrapped in paper towels and covered with a plastic bag. Photo to the left. Closely related to oregano, marjoram has a flowery flavor, which is quite strong and flavorful. Like basil, marjoram should be added near the end of cooking. Marjoram improves the flavor of tomato sauce, bean soup, marinated vegetables and salad dressing and is a traditional addition to Polish sausage (kielbasa). Marjoram is also excellent in place of or in addition to oregano or basil on baked chicken or a pasta side-dish. Before using, crush dried marjoram in the palm of your hand to release its flavor.
Mint (Mentha spicata): Fresh mint can be stored in your refrigerator, wrapped in paper towels and covered with a plastic bag. Leaves should be chopped before adding to recipes. Spearmint is the usual type used for seasoning lamb or for jellies. It is also used in the Middle East - for salads, tabouli, marinated vegetables and many other dishes. Peppermint has a rather warm and spicy flavor, and is used mostly for making candy and chocolate sauces, where it is infused into alcohol, oil or water before using. Both can be steeped alone for green tea, or mixed with Orange Pekoe, Irish or English Breakfast tea. Mint is very light, 4 ounces equals 1/2 gallon by volume. Store mint leaves in a cool, dry place.
Monosodium Glutamate (MSG): A vegetable protein derivative for raising the effectiveness of natural food flavors. USES: Small amounts, adjusted to individual tastes, can be added to steaks, roasts, chops, seafood, stews, soups, chowder, chop suey and cooked vegetables. Also excellent for seasoning tossed salads. Typically used for Asian cooking. Traditional for enhancing flavor in soup, use 1 teaspoon per quart, and salad dressing, 1/2 teaspoon per cup. Some people have adverse reactions to MSG, so its popularity is waning for this reason.
Mulled Wine Spices: Use 1 tablespoon to one 750 ml bottle of red wine. Simmer over low heat in covered pot, 20 minutes. For cranberry juice or hot apple cider, use 1 - 2 tablespoons per half gallon. To give your home a nice baking scent, simmer 1 - 2 tablespoons in a small pot of water. Ceylon cloves, cracked China and Korintje cassia cinnamon, allspice, cardamom and mace.
Mustard Powder (Brassica hirta - yellow or white; Brassica juncea - brown or black): One of the oldest known culinary and medicinal spices, the Romans and Greeks were believed to have used table mustard as we do today. The oldest known recipe was written in the 1st century AD. When making mustard, use stainless steel, glass or ceramic utensils and containers (aluminum gives mustard an odd flavor). For a standard thickness, use 8 parts mustard by volume to 7 parts liquid. Mustard is very hot when first mixed, and then mellows with age. Refrigeration nearly stops the mellowing process. For a nippy, but not overpowering mustard, store at room temperature for 6 weeks, then move to refrigerator. Try 4 weeks for hot mustard and 8 weeks for mild. An easy starter recipe is 1 cup regular mustard powder (4 ounces by weight), 3 fluid ounces vinegar, 3 fluid ounces cool water, 1/2 teaspoon salt and 1 tablespoon honey. Mix until smooth, then pack In glass jars. Feel free to experiment. Types: Regular Canadian Mustard Powder (medium), Oriental Canadian Mustard Powder (hot), Crushed Brown Canadian Mustard Seeds
Mustard Seed (Brassica hirta - yellow or white; Brassica juncea - brown or black): Yellow mustard seed is the traditional type sold in grocery stores, commonly used for pickling, canning and sausage making. Brown mustard seed is smaller and hotter, traditional for Asian and African cooking. In India, whole brown seeds are fried in oil until a popping sound is heard. This gives the seeds a nutty flavor, important In many vegetarian dishes. Try whole mustard seeds In barbecue sauce and rubs, or marinades for grilling. The seeds become very soft, giving great flavor and an attractive appearance. It is easy to sprout and grow mustard seeds (brown seeds grow into an attractive purplish sprout). Both the sprouts and the greens (leaves) make a tasty, slightly sharp addition to salads and sandwiches. Brown mustard seeds can be used to create deli mustards and the coarse mustards found in Europe.
For Chinese restaurant-style mustard, mix 8 parts Oriental Mustard Powder with 7 parts water. Let stand 10 minutes for heat and flavor to develop.